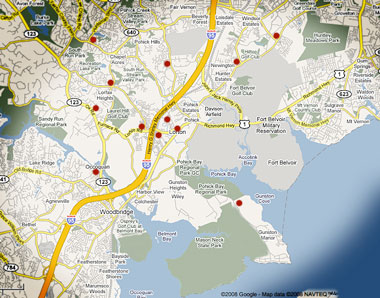 Please E-mail the publisher:
Nuzguy @
LortonValleyStar.com


Office:
703-372-2828 Voice Mail

Mail to:
Lorton Valley Star Communications, LLC
P.O. Box 1436
Lorton Valley, VA 22199

Urgent? Publisher Cell:
571-274-7389



© 2005 Floyd Harrison T/A
Lorton Valley Star Comm.
All international rights reserved; No copying in whole or any element is permitted
Purpose of New Web Site
Forget the travel sites and others abusing the name of Lorton, This is The site Of Lorton, By Lorton, FOR Lorton.
We cover only greater Lorton including Occoquan, Woodbridge, Lorton Valley, Mason Neck, Laurel Hill, Newington, Lorton Station, Fairfax Station, Landsdowne, Fort Belvoir and Engleside. This is the hometown site.
Learn about what is actually in Lorton. Learn how to enjoy Lorton and participate in the community. Find the contact information for the amenities and organizations in Lorton. Find the News, Events, and Merchants in Lorton. Save gas, Spend locally.
Learn where Lorton is, the history and how to get here. Lorton is a Washington, D.C. suburb. Lorton is the northern terminus of the Auto-Train. Find out about living in greater Lorton.
Our tour points out the features that, together, make Lorton Virginia, Usa a unique community. We should also mention the new Lorton Arts Foundation Workhouse Arts Center and the Historic Town of Occoquan just across the river in Prince William County.
This site was reborn, December 2009 as a companion to our community newspaper, Lorton Valley Star. Already, it benefits from inside knowledge of what's new and what's closed over other travel and directory look-up sites. This really is home so please bookmark us and check back frequently because there is vastly more info coming.
Service
Lorton Valley Star Communications is a community service and hopes to be the bookmark for all of the greater Lorton Area. If you know of interesting, useful websites pertaining to the Rt.1 & Ox Road corridors, and Mason Neck, please point us to them.
Beyond being the greater Lorton, Mason Neck, Occoquan source, we try to envolve the residents by providing information about how they can participate with their neighbors for the betterment of the cmmunity.
Our mission is to provide a family friendly alternative. We do not participate in the normalization of violence, tobacco, obscenity, profanity, or
The Tour is also a loop. All pages are accessible directly from any other page.
The Lorton VA site is being refurbished and will be a reference for more or less fixed information about greater Lorton home of American Liberty.
About Northern Virginia
Northern Virginia is among the most diverse, highly educated and fiscally sound regions in the nation, representing 1.8 million people in 1,300 square miles. The Northern Virginia economy is outpacing the nation, and the region is home to a myriad of successful corporations and nonprofit organizations. Jurisdictions in Northern Virginia: City of Alexandria, Arlington County, Fairfax County and Prince William County.